Hygiene equipment
STORM - Production systems for food processing industry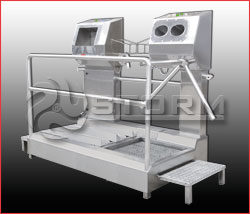 Storm's machine is designated for personal hygienic control to the entering in and going out of working area.

The purpose of the hygienic station is to answer the increasing hands hygienic requirements to manufacture workers. The whole process of entering in and going out may be controlled and programmed as a succession.

Consist of hand disinfection unit with turn style, active (automatic level support) sole disinfection bath, pass through sole cleaning machine and sensor operated (photocell) hand sink with automatic soap dispenser. Both sides are controlled by photocells.

Details...